An English Christmas
Just a week after coming home from Cambridge, my sister Kristine and her fiancé, Geir, came from Norway to celebrate the holidays with us. The events started right away, and we went straight from getting Kristine and Geir from the bus, and to the annual christmas party in Denton house. It was a very nice gathering with a lot of neighbours and friends, and we had drinks and christmas carols.
On Wednesday, to us Norwegians the "little Christmas Eve", we went off to Kenilworth Castle just outside Coventry. It was more ruin than castle, but they also had a nice exhibition, a garden which is probably very pretty in summer, and a nice shop. On our way home we had plenty of time for me to be in time for work, so we decided to have lunch at a local pub. The food took ages before it was served (even though the place was not very busy), and while we waited for the dessert, I discovered that we were out of time. We hurried back towards Oxford, but unfortunately it started raining heavily, and combined with a road accident we got completely stuck in a queue. So in the end I had to call Daniel and ask if he'd be fine on his own, which he fortunately was.
Christmas eve is a quite normal day in England, so we went to Oxford for some sightseeing and shopping. In the Covered Marked we bought four small cakes for Christmas Day, and we had some milkshake at Shakeaway. Both Kristine and Geir got some new clothes also.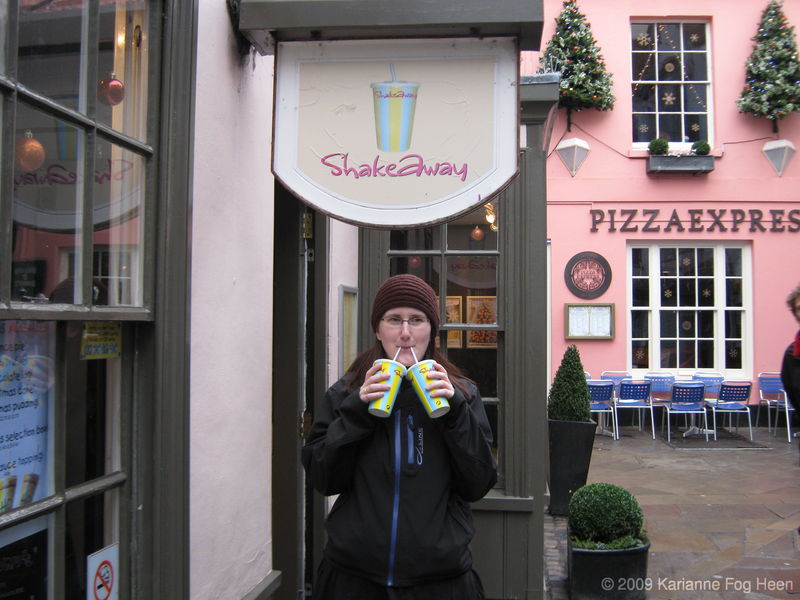 On Christmas day, we were determined to celebrate the English way. We had a rather good breakfast, before we opened the load of packages that awaited us. Odin got a toy and some treats, I got a green sou'west and matching socks(!), and Tollef got a tie with penguins on it. When I got back from my afternoon work, we had a decent christmas dinner with turkey, pigs in blankets, "medisterkaker", parsnips, carrot, sprout and potatoes. Very good! For dessert we had, of course, christmas pudding with brandy butter, custard and merengues. We were stuffed, and had both a round of board games and a walk(!) before we continued the eating. To our great disappointment, the cakes we bought the previous day appeared to be christmas pudding camouflaged in marzipan AND sugar icing. We barely had any of it.
On boxing day we went to do some shopping, but unfortunately most shops seemed to be closed. Kristine and Geir got a viewing round at Denton House, before we went food hunting. It appeared that few pubs serve food on boxing day. At last we found one not far from home, and it was in the same chain of pubs as the one in Kenilworth. It also showed to be as slow with the serving, and it took more than half an hour before we got our starters, and 45 minutes before we had our actual meals. Ok, it's franchise, but I will not visit another pub in that chain again very soon...
In the evening we went to se the Creation Theatre's Beauty and the beast. It was special, but very well made and performed. We had drinks and some pancake (or crêpes, rather) in the break, and were very satisfied when the day came to an end. On Sunday morning I took Kristine and Geir to Tesco for some "allergy-shopping", before they headed back to the freezing Norway.
Karianne