The Southwest
Our year in England is going towards an end, far too soon. We have just spent the last week on our long longed for trip through the South of England. We had put the South off towards the summer, in hope of good weather and views from the famous coasts of Devon and Cornwall. And what views, both over land and sea! If I didn't love England before, I certainly do now. There is a lot of beautiful landscapes in England, but the moors and hills in the South was absolutely stunning.
Day 1
After I was finished at work on Friday, we set off towards Bristol, to deliver some Norwegian brown cheese to Veronica, and eat dinner, before we continued south to Wells. Setting up camp on a site in a hidden village (after having some breathtaking views coming down over the hills), we realised that Tollef's camerabag was left in Oxford. Just a short 2 hours drive back to Oxford, it was still to far to go back for something not really vital for the trip, so we had to do with my compact camera for the rest of the trip. During the night I had quite bad backpains, assumingly from lying on the ground, and the wind had made quite a lot of noise with the tent, so we decided to fasten it a bit better for the next night. Not the best nights' sleep.
Day 2
After a picnic-breakfast, we drove in to Wells to see the cathedral and walk through the town. A very typical southern English town, with a nice marketplace and cute old-fashioned shops. We bought some lunch to have a picnic in the Exmoor National Park. We also found a nice a postcard with a cow and Glastonbury tor (tower) on it, which we bought for my sister. Heading off from Wells, Tollef decided we had to walk up to the tor, so we drove to the village and parked on the bottom of quite a steep hill (for England). It was a nice walk up, and I am sure we had the view of most of Devon from the top! Odin loved it, of course, running up and down the hill around us.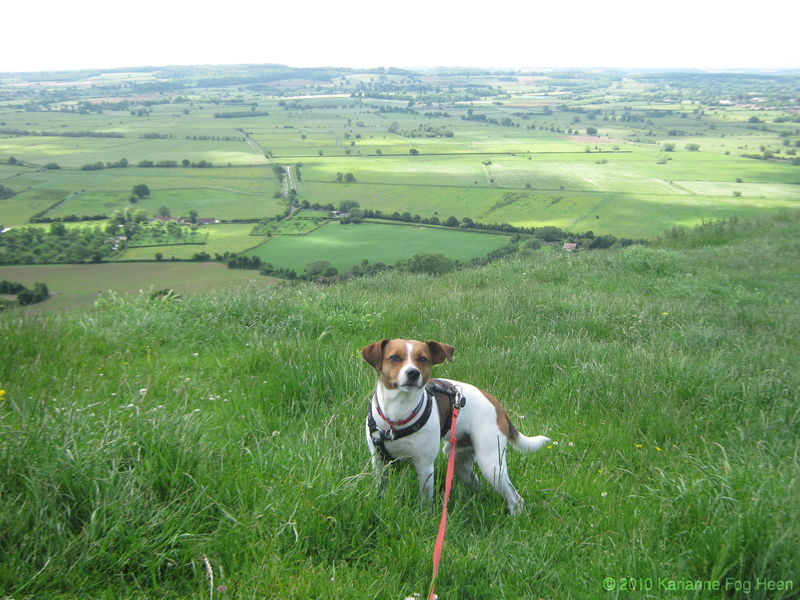 We had our picnic on the Glastonbury tor hill, and then we went on through the Exmoor National Park, which was another stunning view. It was slightly like Norwegian Highlands, with heather (lyng) and rocks, though it was a bit greener. We decided to go over one of the "mountain tops" in hope of seeing any of the famous wild Exmoor ponies. We saw only a few on a distance for the first part, but on the way down again we saw a quite large group of young horses and a couple of foals. Further down in the valley we stopped in a village to have some local made ice cream before we continued for the day's intended destination; Tintagel. Arriving in Tintagel, we camped on a site with a nice view of the Cornish cliffed coast, and the sunset in the Atlantic Ocean. Windy, but very pretty.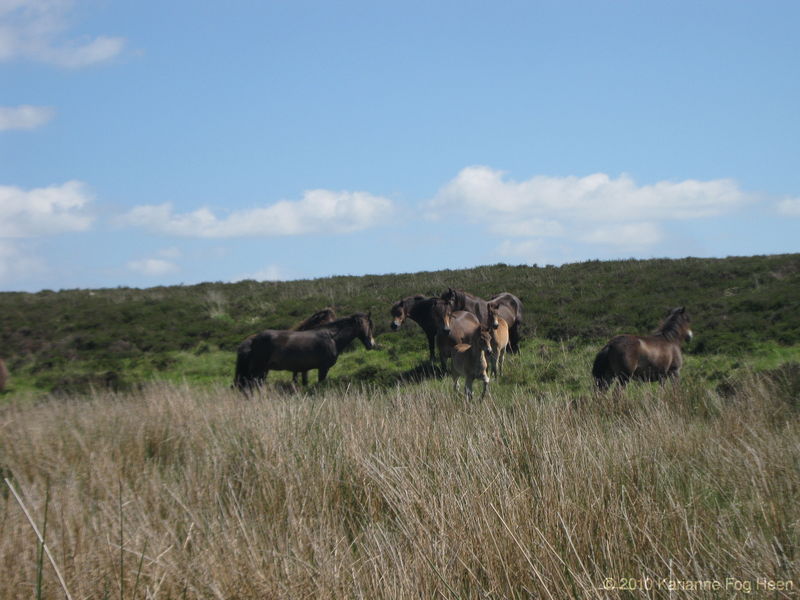 During the day, the car had problems starting several times, it seemed to get worse the longer we had driven, and I got quite worried. Asking the attendant on the camping site, she reminded us it's Sunday the next day, and we just crossed our fingers our car would keep on going until Monday.
Day 3
That night, my back hurted so much I had to move to sleep in the car half way through. I didn't really sleep well, but better than nothing. After breakfast and packing up the car started all fine, and we went off to discover Tintagel Castle. While we had breakfast, the "Strawberry Man" came calling, and we bought a basket of strawberries for lunch.
The castle was pretty much ruins on a cliffy island, but the walk and story was very nice. Odin had his backpack on, carrying some dog treats and our strawberry lunch, and got quite a lot of attention from other tourists. A German lady was quite surprised that he had actually walked up the steep rocky stairs up the cliffs, that I haven't carried him on my arm. Unfortunately my German isn't good enough to express my offense on that comment! We sat down to enoy our nice strawberries, but it appeared that Odin had shaked them almost in to strawberry-jam, and his backpack was all sticky. Lesson learned...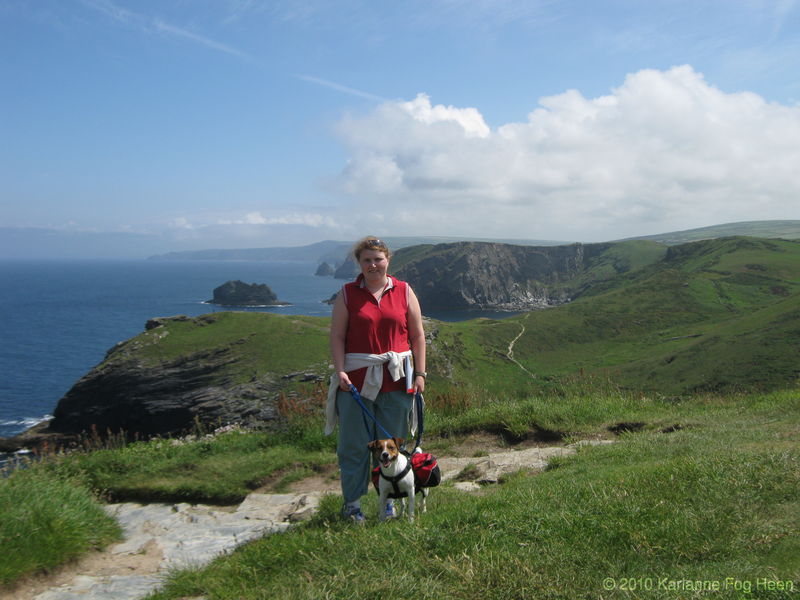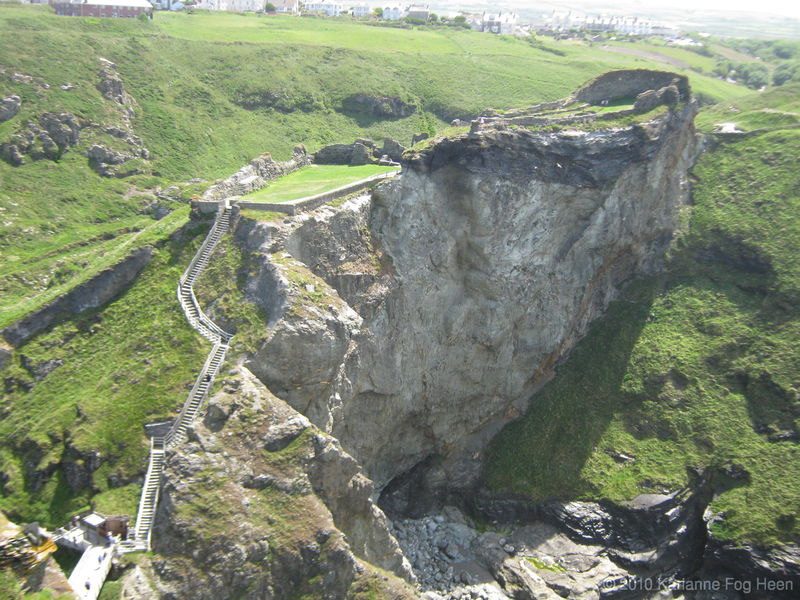 We had lunch in the Tintagel Village, which is pretty much a tourist place, but very nice. From Tintagel we drove quite far south, to Penzance. Before we left, I got into a camping-shop and bought an air mattress, hoping to finally get a good nights sleep. On the way we shopped some food for bbq on the campsite. The place was very nice and had accessible power outlets to charge our mobiles and laptops. We just had our food and settled inside the tent when we had some severe rain showers.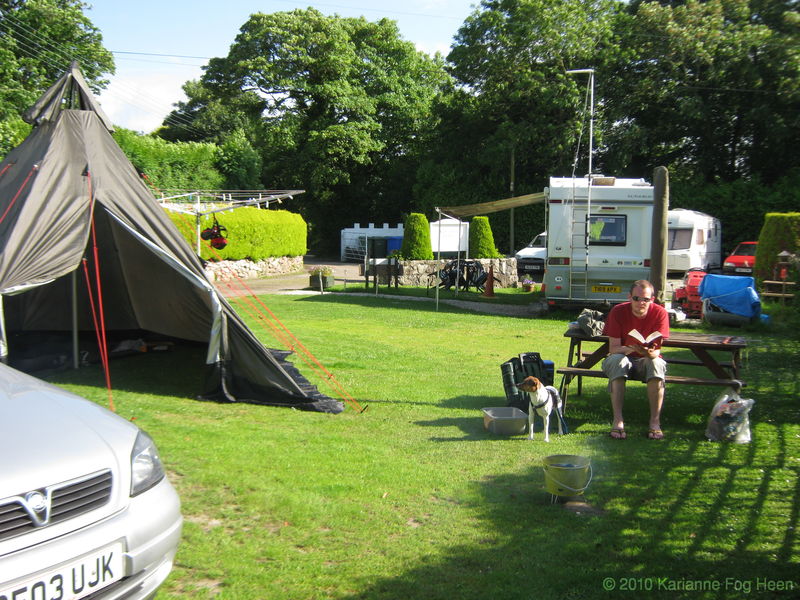 I slept better that night, but was still stiff in the morning. We had reservations on a hotel in Torqay from Tuesday night, so I really started longing to get past that last night. The car had been troublesome and even gotten worse during the day, so we decided to find a garage in the morning, after going to Land's End.
Day 4
The next morning, everything was quite wet, but we didn't have rain, so it wasn't that awkward to do the packing. It was still quite grey and windy, so we put on rainproof clothes before going for a walk on Land's End. Of course that kept the rain off, and before we left we had blue spots and sun in the sky. We saw rescueboats and a sign telling the distance to London and New York. The weather, of course, made it impossible to see that far that morning. There was also a farm with pigs, goats and hens, and Odin got quite excited about the pigs.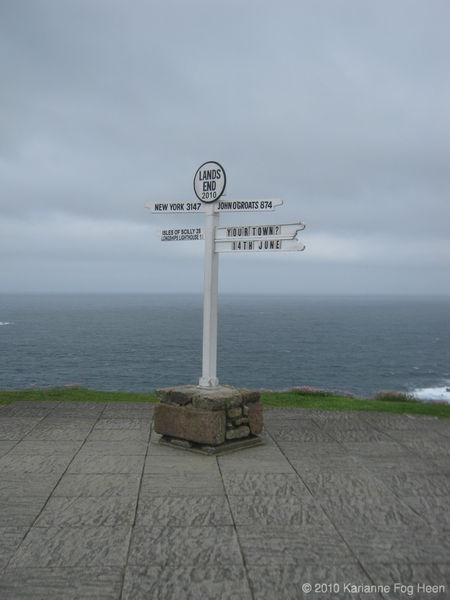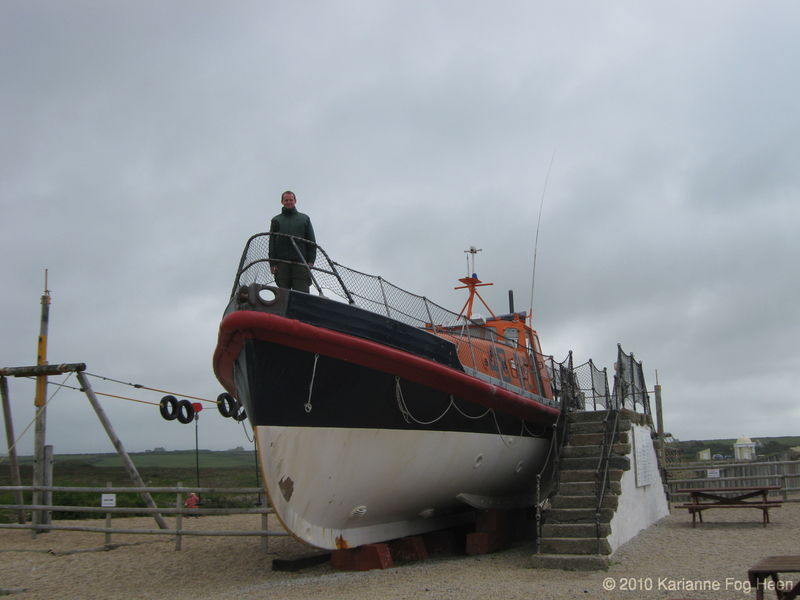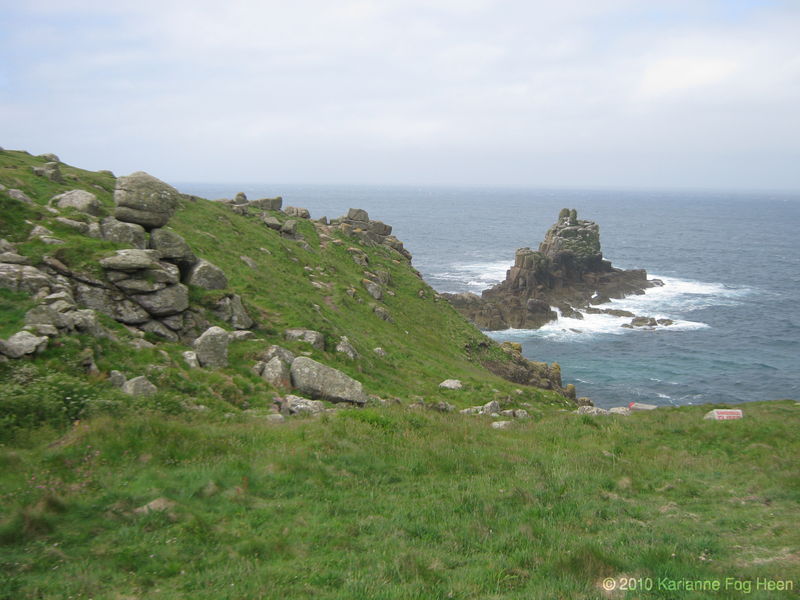 The car had stopped again while Tollef tried to park on Land's End, so we got the car going again, deciding to go directly to a garage in Penzance to get it fixed. We got a tip about a garage a bit outside the town, and went there. They took our car in, and had a good idea about the problem, and would call us when they had checked it out. We packed out backpacks and brought Odin, and took the bus to Penzance.
Within the time we got to Penzance the weather was quite nice, and we walked along the marina from the bus station. There, we passed a harbour for sailboats and smaller boats, that was completely dry on the low tide. It looked very funny with all the boats lying on their sides or keels. We walked up through the city centre, and had a light lunch at a Wetherspoons (pub chain), before we had a sun-break writing postcards on a bench on a pedestrian street.
We walked further up the pedestrian street, and found a pet shop, the second I had seen that day. We dropped by for a chat, Odin got some treats, and I bought some more for him. After walking another 20 minutes and going for an ice cream break, I realised my wallet was gone. We traced our walk all the way back, through backstreets and mews, to the pet shop where I last used it. No one had seen it, but just as we talked to the pet shop man, a guy called me and said he had found it. I was really relieved. It didn't have much cash in it, but all my cards from different places, it's a lot of hassle to get new ones.
After getting my wallet we just had time for an ice cream/milkshake break on the marina, before catching the rush-hour bus back to the garage. They had fixed the car, and we made the drive back north without any problems. From Penzance we drove to Healy's Cornish Cyder Farm, where they make cider and other fruit-based drinks and jam. Very nice place, except from the horses, who appeared very thin and not happy at all. The other animals looked healthy and well cared for, and they had a lot of piglets just being born the other day. We ended up brining a lot of cider and some strawberry wine, before heading towards Newqay.
In Newqay we set up camp on a very nice site with loads of rabbits running around. We were quite happy that Odin had had a good walk, first on Land's End and then in Penzance. After drying and setting up the tent, we went in to Newqay for dinner. It appeared very much like any southern tourist town, just with less open restaurants and shops after six in the evening... We walked a while, before we decided to resign and eat on the first pub/restaurant we had seen, of course. The food was good enough and the TV without sound, so it was nice.
Day 5
Waking up to another sunny day was very nice, and the tent was mostly dry when we packed it in the car. My back was still stiff and hurted a bit, but this was the last night in the tent for this time. After breakfast we went back into Newqay and to the zoo. It was nice enough, but not very impressive. From there we headed further north towards Wadebridge and the Bee Exhibition Centre, who had a nice exhibition about bee-keeping. We had cream tea with honey (of course), and bought some honey and mead to take back home. On our way back to the main road we also stopped by Sharps breweries, who has some nice beers.
Driving through Dartmoor was, at least from my view, the best part of the trip. It appeared vast, like the Norwegian highlands, but with granite structures and rock formations spread around. On the moors around the roads we saw wild Dartmoor ponies and sheep grazing. We saw quite a lot of ponies, and also came quite close up on them. First, there was a few grazing just on the road edge, and we stopped to take some photos of them and some nearby grazing ponies with foals. A bit further down we came upon a parking lot with several ponies on and around. One stood right in front of a car, and there were several mares with foals and youngsters around. They didn't mind us cuddling one of the foals at all, and seemed quite used to tourists. One of them even tried to get in the car when we were leaving... I wouldn't have minded bringing it, but the car was too full already!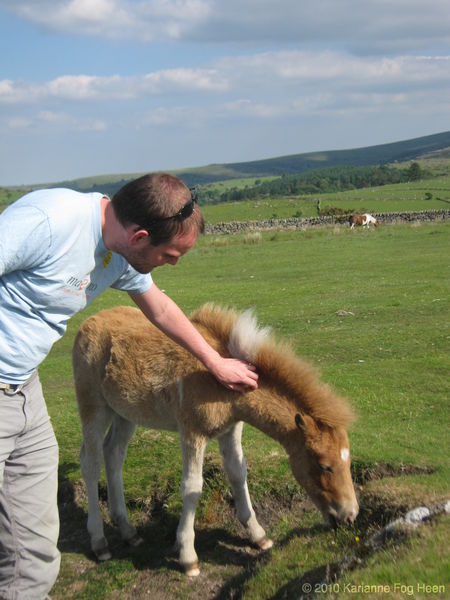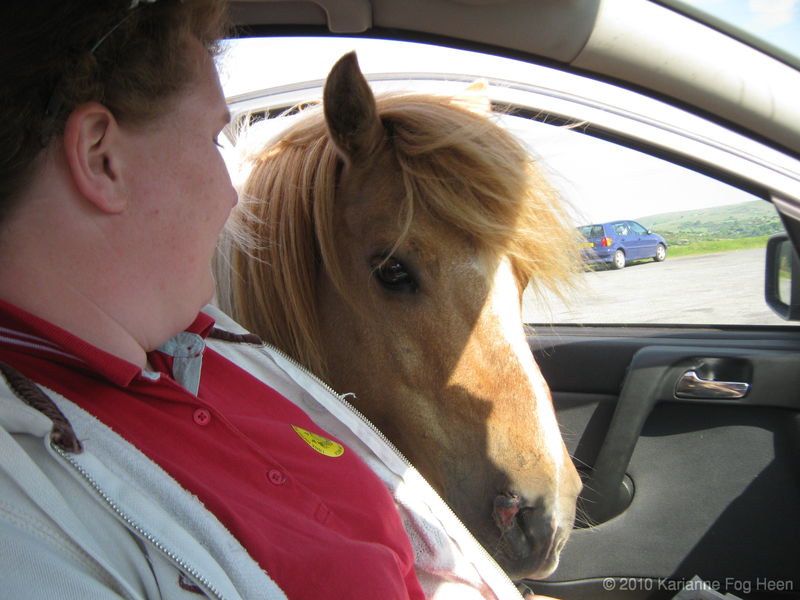 On the other edge of Dartmoor, we had a lovely salmon dinner in a nice restaurant. They also had a gift shop, so I bought a booklet about the Dartmoor ponies. From there it was just an hours drive to Torqay, "The English Riviera", and the Bute Court Hotel.
Day 6
The hotel, though being only two stars, was very nice. We got a big room on the ground floor, probably because they tend to put dogs in accessible rooms. I still god a bad back from sleeping in a bed, but less bad than the other nights, at least.
After a nice English breakfast, we walked along the marina and over to the Living Coasts-centre, where they had penguins, seals, coastal birds and fishes. The penguins were walking free in part of the centre, and some of them had chicks, the latest had hatched that same day! Apart from being there along with three school classes, it was very nice. Because we made a gift aid donation, we had a free hot drink in the cafè afterwards. Even though it was sunny the wind made it a bit chilly, so a cup of hot chocolate was very nice.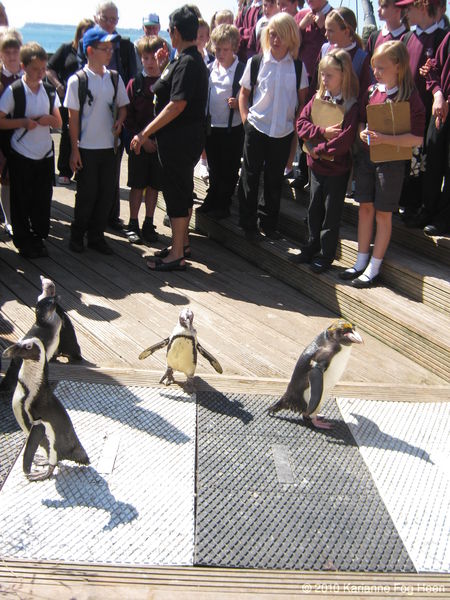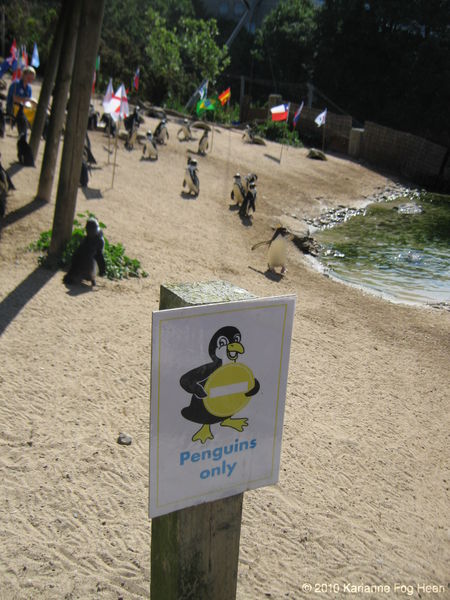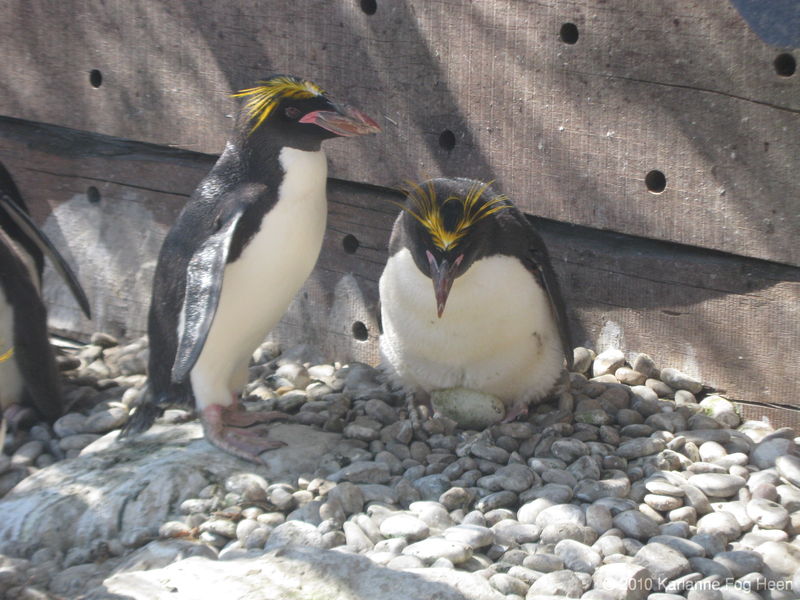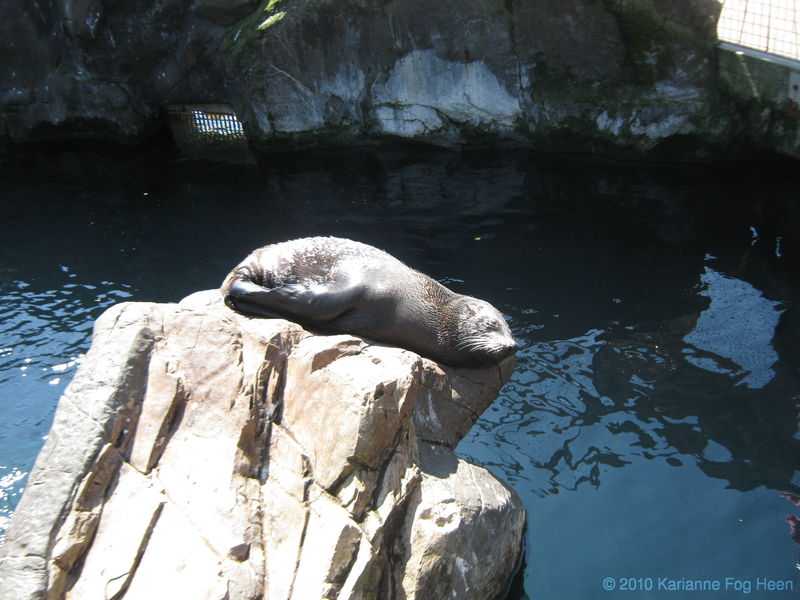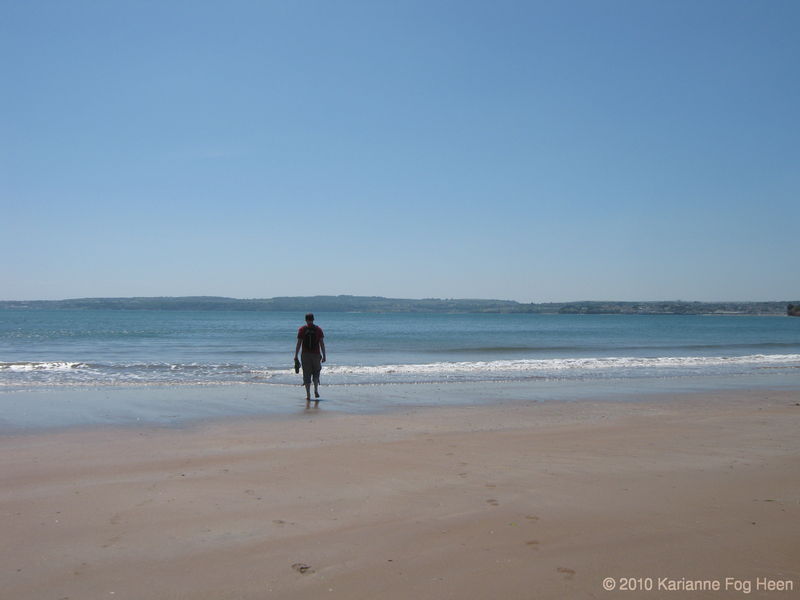 We had lunch, and then headed back to take Odin for a walk through the city centre. Torqay was even more than Newqay like a tourist resort like the ones they have on the Canary Islands or similar places. A lot of beaches, shops, eating places and of course surf shops. The largest drawback was the big hill we had to walk over or around to get from the hotel to the city centre...
Before dinner we sunbathed by the hotel pool, and Tollef had a short swim. Though the sun was quite warm, the wind was still keeping the real heat away. We had also noticed a garage next to the hotel that did MOT's (EU-test). Ours were soon due, so we got an appointment in the afternoon. Everything was fine, but they did point out a couple of things, like an oil-leak that the garage doing service on the car a couple of weeks ago should have fixed (together with the part that the garage in Penzance had to change). I'll have a talk to them just after the weekend, getting some money back for service not really being done...
Day 7
After a week on holiday, I finally had a good nights sleep, having built up with spare pillows to halfway sit up when I was sleeping... Tollef was supposed to go diving this morning, but the diving-people didn't get in touch or answer the phone, so Tollef and Odin walked around the bay and the cliffs outside Torquay, while I had an easy morning by the pool.
The pub right by the hotel had really good food for lunch. After eating, we went to the nearby Torre Abbey, an old abbey having been a private residence for several hundred years. It was very nice and had remains from quite far back in time. In the evening we had a nice dinner on Beefeater, and after that mostly relaxed, being quite tired from a busy week, and decided to go to Exeter and then home the next day.
Day 8
It's always quite weird when holidays comes towards and end. You kind of get used to being "elsewhere", eating out, discovering new things and places, and do everything om a day-to-day basis. But we had quite an eventful week and felt very ready to go back home.
First, we drove the short way up to Exeter. The cathedral is well known, and was very nice. The city centre of Exeter is a lot of pedestrian streets, so we pretty much strolled through it, enjoying the sun, and in time, a nice lunch.
On our way back to Oxford we decided to have dinner in Swindon, and take the opportunity to drive through the magical roundabout. That is a large roundabout with 5 small roundabouts around it, the middle one being anti- clockwise in direction. Very funny and a bit confusing. We had food at a nice local pub, before heading on. Appearantly we were lucky with our choice of time and directions. The radio reported of queues and traffic delays on many of the main roads, also in some parts of Oxfordshire that we might have come through, if we hadn't chosen to go via Swindon. Contrary to many others, we didn't strive to get back to a certain sport event starting, but it was really nice not having to queue to get back home.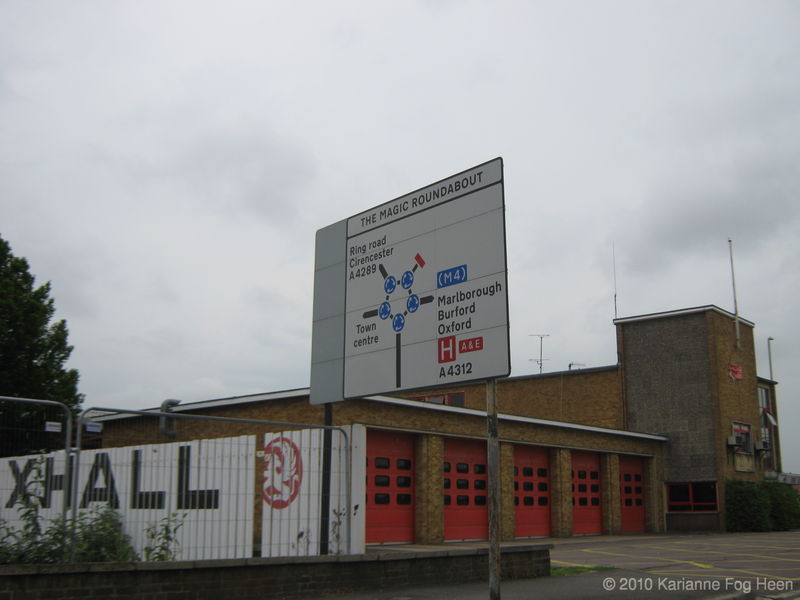 A nice, maybe the best so far, week exploring England. I love it!
Karianne