After we came back from York, Karianne decided she wanted to learn to play the harp. First, we went to a meeting of harpists in a pub in Oxford and she had a lesson where she learnt a bit about how to play. By then, she had decided she wanted her own harp and suggested we go to Wales (as there quite a few harp shops there). So, last weekend, we went to Wales. First to a small shop about half an hour from Oxford. There, Karianne found a harp she absolutely fell in love with and decided to buy on the spot: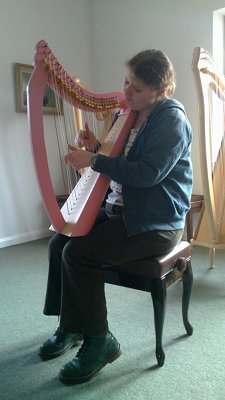 No, not really. Pink isn't her favourite colour and the sound wasn't great either.
So, we went to Cardiff where we stayed at a reasonable enough hotel. We didn't see that much of Cardiff itself during daytime, just its castle, a couple of harp shops and a little bit of the high street and St. Mary's street. However, one of the harp shops (which wasn't really in Cardiff, it was almost in Newport), was situated just next to a great old house, the Tredegar House. The gardens were open, so we went for a pleasant stroll there before lunch and then heading back to the final harp shop of the day. In the evening, we first went to the Cardiff bay, an area reminding me quite a bit of Aker Brygge in Oslo or a (much) livelier copy of Docklands in London. They have something they call the Norwegian church there, which didn't look like any Norwegian churches I've seen, it looked more German or city hall-ish.
I had been craving a good steak for a couple of days and so had decided to go to the Taurus steak house. Unfortunately, when we finally made it there, we discovered they had closed up, permanently. Another steak house, Charlestons Steak House was just around the corner, and from reviews it looked quite good. We got in, and it looked a bit odd, a bit more of a night club than a restaurant. They also had an odd policy of "you pay when you order", which I guess means fewer people run away from their bill, but also affects tipping quite a lot. The food was ok-ish, but not that great. Maybe I just have high expectations, but it was nothing special, just decent enough. Just before this, Karianne's hips had started acting up, so we went back to the hotel afterwards.
On Sunday we first tried to find a Sports Direct shop to buy walking sticks for Karianne, as we would be spending the day in Bristol Zoo. After a small adventure including driving around a huge strip mall outside of Bristol, we found some that worked well enough. Karianne's friend Veronica lives in Bristol, so we picked her up before heading off. They had a decent selection of animals, most of which seemed to have what they needed space-wise. We also got to see lots of penguins and some seals too before we had food and drinks at the local microbrewery (called 0°) and then headed home.